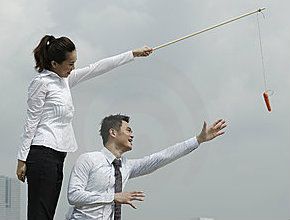 You've suspected for a while that something is not right between you and your spouse. Maybe they were spending lots of extra hours "at work" but there was no overtime on their paycheck. Maybe they completely changed their music, hairstyle, or clothing choices to something appropriate for someone decades younger. Maybe they were chatting or texting all the time and then deleted everything so you couldn't see it.
Whatever the reasons, you had a sneaking suspicion something wasn't right…
If you suspect your spouse is having an affair or is being emotionally unfaithful, do not despair. An affair does not have to mean the end of your marriage. In fact, consider this:
Approximately 20% of affairs last less than two months
Approximately 50% of affairs last more than one month, but less than a year.
The remaining 30% last more than a year
Very few last more than four years
Around 3% result in marriage
There are Seven Steps You Can Take to End an Affair if you have reason to believe your spouse may be unfaithful. There is no guarantee your marriage will recover, but these steps will give you the best opportunity to recover after the affair ends.
Step 5) Carrot and Stick. In this phase you focus on two things: 1) working on yourself to be the person you once were who attracted your spouse again AND simultaneously 2) allowing your disloyal spouse to experience the natural consequences of their choices.
You work on yourself by eliminating the things that extinguished love between you two (like judging, angry explosions, enough is never enough) and by re-starting the things that kindled love between you two (like romantic doo-dads). You need to do BOTH…but eliminating love extinguishers is the most important of the two. If you need a refresher, please turn to I Corinthians 13 to find out what love is like.
The second part is about NATURAL consequences. In II Samuel 11, we read the story of King David and Bathsheba. Verse 2 says: "One evening David got up from his bed and walked around on the roof of the palace. From the roof he saw a woman bathing. The woman was very beautiful, and David sent someone to find out about her. The man said, "She is Bathsheba, the daughter of Eliam and the wife of Uriah the Hittite." Then David sent messengers to get her. She came to him, and he slept with her." King David was a married man and he slept with (and impregnated) a married woman. What's worse, in the rest of the chapter we see that he put her husband in the front lines in a battle specifically so that he would be killed! In the very next chapter, chapter 12, Nathan the prophet rebukes David for his adultery, and King David immediately realizes he was wrong and repents of his sin. Psalm 51 is his confession and repentance! But look at verse 13b and 14: "The Lord has taken away your sin. You are not going to die. But because by doing this you have shown utter contempt for the Lord, the son born to you will die." God forgave King David of his sin and accepted him back into relationship–just like a loyal spouse would for a disloyal–but God still allowed King David to experience the natural consequences of his choices to sin!! The child conceived in his adultery died, and his household was brought to calamity. King David was the apple of God's eye and the man whom He loved…but God still allowed him to experience the natural consequences of his adultery. If this is how God treats someone whom He loves and forgives, we can learn that it is LOVING to let our disloyal spouses experience the natural consequences of their choices so that they can learn and grow.
Sooooo…this doesn't mean that you seek vengeance and punish your disloyal spouse. NO! NO! NO!! Rather, you let them experience the natural costs of losing you and "replacing you" with their lover. For example, you are not leaving the marital home and the children so they can move their lover in. If the disloyal spouse wants to be with their lover, they'll need to move out–and no the kids do not go with them. There is no reason for the children to leave their home, their bed, their neighborhood, their friends, their school because the disloyal spouse is having an affair! Thus, one natural consequence is that the disloyal loses some time with their children. Some additional natural consequences would be splitting any joint accounts 50/50 and making a new, personal bank account for yourself–and having your paycheck deposited to your new, personal account. If you are paying for their cell phone and they are using their cell for the affair–take them off your account. If you are paying for household internet and they are carrying on the affair online–stop paying for internet. Losing those things are the natural costs of choosing to have an affair and what WILL happen if they choose to divorce. Allow them to experience that hurt because it will teach them faster that affairs HURT and cost A LOT!!
You should know that this step is not "long term" because no one can give and give and give forever when an affair is being rubbed in their face. Eventually the time would come for you to say, "I've done what I could to win you over and now I need to move to the next step before I lose all love for you." Sometimes a disloyal spouse sort of sits on the fence in this step because they are getting needs met by two folks.
On the occasion there are disloyal spouses whose affair just die a natural death–like the Other Person just gets sick of it and leaves them–or they begin to see the good of staying and how much leaving would hurt…and they think maybe that too much water has passed under the bridge. Periodically let your disloyal know that you would love to have them back and work on the marriage. Invite them to return. If this is your case, consider yourself blessed and move to the phase of reconciling your marriage!!
If that is not how it works out for you, please bear in mind that the process of breaking up an affair with a hard-hearted spouse is not "guaranteed." Sinful human beings often just REFUSE to do the right thing; hurting human beings often are more afraid to look at themselves and admit they were wrong than they are to live with the mess they've made! If that is the case, please post a comment or post a Prayer Request and we'll pray for you. Thank God, He didn't just leave us at this point, but the Bible does tell us what do do for the next step. And so we will post tomorrow with Step 6.
.


This is post #5 in the CMBA 1/2 Marathon Blogging Challenge to post everyday for 13 days in October … AND is part of the Ultimate Blog Challenge!
And on Fridays I also join this Godly Link-up:
Related articles