Today is the start of the second series of our month-long "Back to School–Back to Basics." This week we'll be going over the seven Love Extinguishers. To understand what a Love Extinguisher is, you could read the Basic Concepts article to get a more indepth explanation. Briefly, to help you envision the idea, think of your marriage like a campfire. There are actions that can quench the fire of love, and those actions are Love Extinguishers. BUT there are also actions that stoke the fire of love and make it hotter–those are Love Kindlers. When you make the decision to love, you choose to act in a way that is likely to kindle feelings of interest and passion; so you decide to act in a Love Kindling way. When you get married and do not make diligent efforts to keep stoking the fire, life, bills, and children intervene and you begin to gradually take your spouse for granted and act in a Love Extinguishing way.
Today, we look at the second behavior that can put out the fire of love: Spiritual Neglect! This extinguisher involves disregarding your spouse's spiritual and religious needs and in fact inflicting moral harm by becoming the sort of spouse who:
Will Not Forgive–Everyone makes mistakes, some bigger than others, but when your spouse does something painful and sincerely regrets their error -AND- changes the way they think and act… it is spiritually neglectful to continue to hold it against them and refuse to grant them forgiveness. Showing mercy is a virtuous trait–holding onto wrongs as a punishment is a Love Extinguisher.
Lacks Personal Transparency–When you marry your spouse, you volunteer to share yourself and your life intimately with another person. That means that you would keep yourself, your thoughts and your feelings "See Through" so that you allow your spouse to see the True You. When you hide your activities, motives, intentions, thoughts and feelings from your spouse, you are extinguishing the fire of love by lying to them.
Uses Smoke and Mirrors (Deflection)–As mentioned above, we do all make mistakes (even you, dear reader, and even me), but a spouse who uses deflection does something wrong, either purposely or unintentionally, and then rather than taking personal responsibility, they justify their bad behavior by deflecting attention to something their spouse did. Even if your spouse did do something wrong, their bad behavior doesn't justify YOU acting badly! When you look at the toothpick in your spouse's eye rather than dealing with the log in your own eye, you are harming them spiritually and extinguishing the fires of love in your marriage.
Engages in Disrespectful Judgments–Let's face it, just as we all make mistakes, we also all occasionally make a judgment about someone. BUT engaging in disrespectful judgments in your marriage means that you think that you "already know" what your spouse thinks or feels, that you disallow their ideas or preferences as if they are "less legitimate" than yours, that you discount their abilities or their intelligence or their expertise because "you know better." In short, we try to make a demand in the form of telling our spouse they have some shortcoming! UGH! This clearly puts out any blaze of passion in a loving marriage.
Disregarding your spouse's spiritual life–In this category are acts such as disparaging your spouse for having a different belief system than you do, not being a spiritual leader or forcefully taking over leadership that is not yours, or discouraging them from regular worship or prayer. If your spouse is not a christian, we have been told to win them with our godly behavior, not but extinguishing the love in our marriages by teasing, degrading, and neglecting them.
In a summary, we are told in I Corinthians 13 about the traits of godly Love: "Love is patient, love is kind. It does not envy, it does not boast, it is not proud. It does not dishonor others, it is not self-seeking, it is not easily angered, it keeps no record of wrongs. Love does not delight in evil but rejoices with the truth. It always protects, always trusts, always hopes, always perseveres. Love never fails."
Over this month, we will be going "Back to School" by going over all our Basic Concepts. Last week we examined the Love Kindlers–this week the Love Extinguishers. During the third week of September we'll look at the Seven Steps to End an Affair, and for the last week of the month, we'll review the Seven Steps to Rebuilding After an Affair. We hope you'll join us on this journey to get "Back to the Basics"!!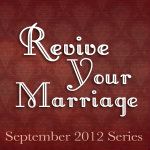 Related articles