Today we are continuing our month-long "Back to School–Back to Basics" series and this week we'll be going over the seven Love Kindlers. To understand what a Love Kindler is, you could read the Basic Concepts article to get a more indepth explanation. Briefly, to help you envision the idea, think of your marriage like a campfire. There are actions that can quench the fire of love, and those actions are Love Extinguishers. BUT there are also actions that stoke the fire of love and make it hotter–those are Love Kindlers. When you make the decision to love, you choose to act in a way that is likely to kindle feelings of interest and passion; so you decide to act in a Love Kindling way.
Today, to stoke the blaze of passion and love in your marriage today, the second Love Kindler is: Spiritual Commitment!
Offering your spouse forgiveness
Supporting your spouse's spiritual values
Having a shared spiritual life
Respecting your spouse's beliefs
Living a personally transparent, moral life
The "spiritual" part of this kindler has to do with your spiritual lives as a couple and as a family. As you know, here are Affaircare we are Christian Nouthetic counselors, so we do take a distinctly Christian view on what spirituality is and what that means in your marriage. Thus, to be spiritually committed to your spouse means that you recognize that BOTH of you are forgiven sinners. You hope for some degree of mercy and forgiveness when you are less-than-perfect, and so does your spouse. But on an even deeper level, spiritual commitment means that you care about the spiritual life of your spouse enough that you will encourage them to grow in their relationship to God, encourage them to read the Bible regularly, encourage them to pray personally and with you, encourage them to attend church and edify the Body of Christ, and encourage your spouse to live a life that is pleasing to and obedient to God! If you are a husband, you will love your wife as Christ loved the Church and gave himself for her and you will lead your wife and your family in a godly way. If you are a wife, you will respect your husband as the one with god-appointed authority in your relationship and submit to him as we, The Church, submit to Christ, our Lord.
Over this month, we will be going "Back to School" by going over all our Basic Concepts. This week we will examine the Love Kindlers–next week the Love Extinguishers. During the third week of September we'll look at the Seven Steps to End an Affair, and for the last week of the month, we'll review the Seven Steps to Rebuilding After an Affair. We hope you'll join us on this journey to get "Back to the Basics"!!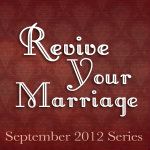 Related articles